High-Quality Electronics Professionals For A High-Quality Product
MPE Electronics is an electronics manufacturer with a reputation for excellence.
Established in 1991, we are based in Uckfield, East Sussex. Our founding ethos was one of excellence in service and the production of high-quality products for commercial and industrial businesses.
We continue our focus on producing low to medium volumes of high specification PCB assemblies and complete products. We understand our clients are from industries where reliability and effectiveness are vital. Our expert professionals take pride in delivering the best in electronics manufacturing.
Electronics Manufacturer Reliability
Our team of electronics manufacturers are highly trained and experienced, with many working with MPE Electronics upwards of 15 years. Consistency in our team allows for consistently high quality products for the businesses we serve. Therefore, the culture within our organisation is central to our reliability and success. We are proud that our staff choose to stay with us, and you can find family members working alongside each other. Mothers and sons, husbands and wives, siblings and cousins champion our company values.
Our staff are trained to IPC Class 3 workmanship standards and insist on the consistent enhancement of their skills.
Continued Electronics Manufacturing Development
Being a leading electronics manufacturer demands continued development. We commit to continually training our team with the latest skills. We also invest in the newest technology and the regular review of our processes to ensure we are at the forefront of PCB assembly and contract electronics manufacturing.
Our Company Mission is to be our customers' manufacturing department by producing PCB and electronic assemblies that they can be proud of.
Watch our video to find out more about MPE Electronics.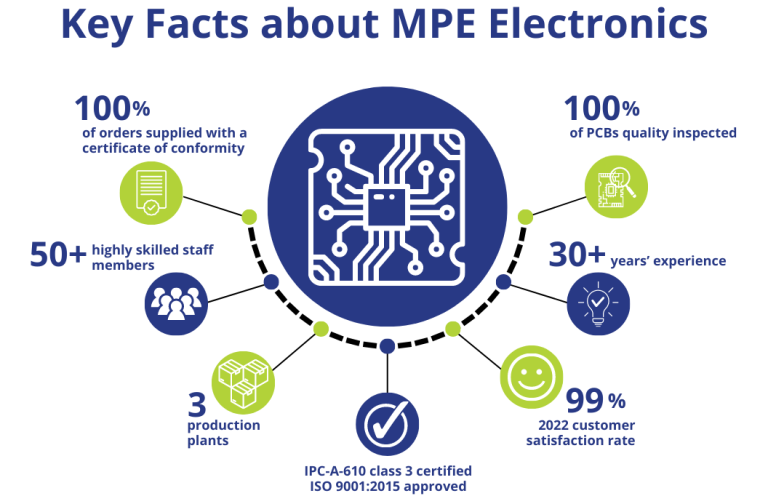 Discover MPE Electronics' full range of services from PCB manufacture and sub-level assembly to full product fabrication.
Find out what goes into making sure we supply our customers with the best PCBs.